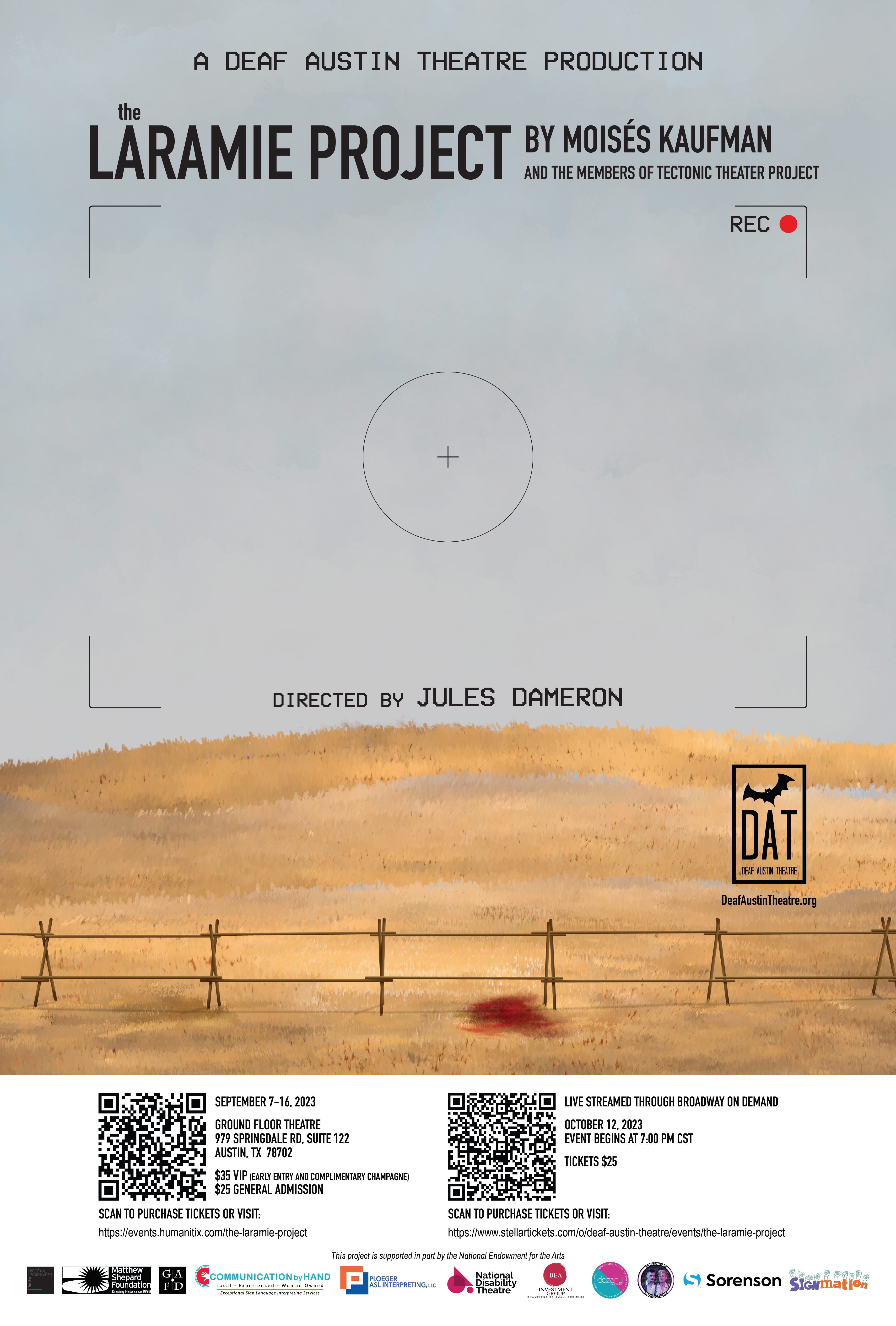 THE
LARAMIE
PROJECT
by Moises Kaufman
and the members of the Tectonic Theatre Company
In 1998, Matthew Shepard, a twenty-one-year-old gay student registered at the University of Wyoming, was tied to a cattle fence, beaten about the head, robbed, and left to die on a bitterly cold night in October. Eighteen hours later, he was accidentally discovered by a biker, who had trouble believing that the figure he saw attached to the fence was human. Police and ambulances were dispatched, and Shepard was taken to a local hospital; all to no avail. Shepard was beyond recovery. He never regained consciousness and died several days later due to his head injuries. Two local young men were charged with the crime.
The play is based on more than 400 interviews with about 100 Laramie residents, as well as journal entries from the members of Tectonic Theater Project and Kaufman, as they reflect on their own reactions to the crime and to the interviews they carried out. Structured as a documentary, it attempts to reenact the events that occurred on that fateful night.
In the Fall of 2023, Deaf Austin Theatre will be producing the first professional ASL production of this powerful, award winning play. The project will include a live stage production during the fall of 2023 here in Austin.
Our stage production will be filmed and lived streamed through Broadway On Demand on October 12, 2023, in honor of the death of Matthew Shepard.
Directed by Jules Dameron 
Live Performances: September 7-16, 2023
Performances at Ground Floor Theatre in Austin, TX
This project is funded in part by the National Endowment for the Arts. Matching funding provided by the Greater Austin Foundation for the Deaf. Additional funders include: the Matthew Shepard Foundation, BEA Investment Group, and many amazing individuals through online fundraising. 
"THE LARAMIE PROJECT is presented by special arrangement with Dramatists Play Service, Inc., New York."
About DAT
As a non-profit organization, Deaf Austin Theatre's purpose is to enrich, inspire, educate, create and entertain the Austin community by using American Sign Language (ASL) within all of our theatrical productions that range from classics to new works. We strive to impact our community, our audience members, and to create an accessible stage for all future artists.
ASL Theatre
DAT's main goal is to provide theatre experiences in ASL that you remember forever.
Workshops
DAT provides workshops for schools, colleges and professional organizations. Some topics include: Acting, Directing, Improv, Theatre Interpreting, Music Interpreting.
Acting Camps
DAT offers structured summer acting camps available for all ages. These can be evening/weekend camps from fall through spring, and weeklong camps in the summer.
Partnerships
DAT is open to partnerships with anyone interested in working with Deaf and Hard of Hearing people. Contact us and let's discuss.