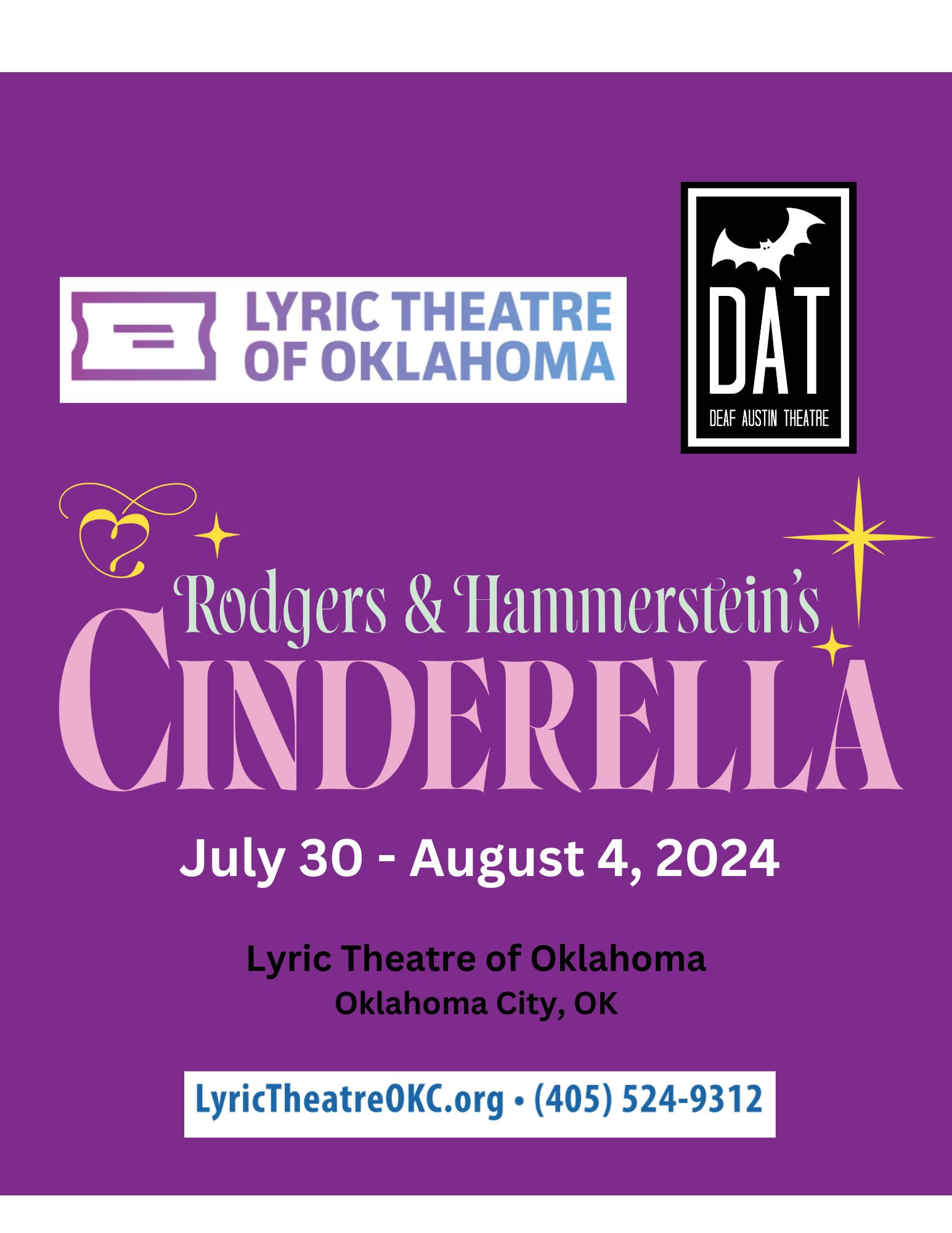 Rodgers & Hammerstein's
CINDERELLA
Directed by Dr. Brian Cheslik & Michael Baron
(In association with ZACH Theatre and Lyric Theatre of Oklahoma.)
The enchanting, Tony-nominated musical fairytale that places a spell on audiences of all ages. In an innovative approach with Deaf Austin Theatre and performed simultaneously and seamlessly in English and American Sign Language, Rodgers & Hammerstein's CINDERELLA showcases your favorite tunes, including "In My Own Little Corner," "Impossible" and "Ten Minutes Ago," in this funny, modern adaptation from the delightful Broadway revival. Add a dash of romance, a splash of stage magic –and POOF! – you're guaranteed to have a ball! 
*INDIVIDUAL TICKETS ON SALE FRIDAY, JANUARY 5, 2024!*
About DAT
As a non-profit organization, Deaf Austin Theatre's purpose is to enrich, inspire, educate, create and entertain the Austin community by using American Sign Language (ASL) within all of our theatrical productions that range from classics to new works. We strive to impact our community, our audience members, and to create an accessible stage for all future artists.
ASL Theatre
DAT's main goal is to provide theatre experiences in ASL that you remember forever.
Workshops
DAT provides workshops for schools, colleges and professional organizations. Some topics include: Acting, Directing, Improv, Theatre Interpreting, Music Interpreting.
Acting Camps
DAT offers structured summer acting camps available for all ages. These can be evening/weekend camps from fall through spring, and weeklong camps in the summer.
Partnerships
DAT is open to partnerships with anyone interested in working with Deaf and Hard of Hearing people. Contact us and let's discuss.