THE LARAMIE PROJECT
By: Moises Kaufmann and the members of the Tectonic Theatre Company
Directed by Jules Dameron
In 1998, Matthew Shepard, a twenty-one-year-old gay student registered at the University of Wyoming, was tied to a cattle fence, beaten about the head, robbed, and left to die on a bitterly cold night in October. Eighteen hours later, he was accidentally discovered by a biker, who had trouble believing that the figure he saw attached to the fence was human. Police and ambulances were dispatched, and Shepard was taken to a local hospital; all to no avail. Shepard was beyond recovery. He never regained consciousness and died several days later due to his head injuries. Two local young men were charged with the crime.
The play is based on more than 400 interviews with about 100 Laramie residents, as well as journal entries from the members of Tectonic Theater Project and Kaufman, as they reflect on their own reactions to the crime and to the interviews they carried out. Structured as a documentary, it attempts to reenact the events that occurred on that fateful night.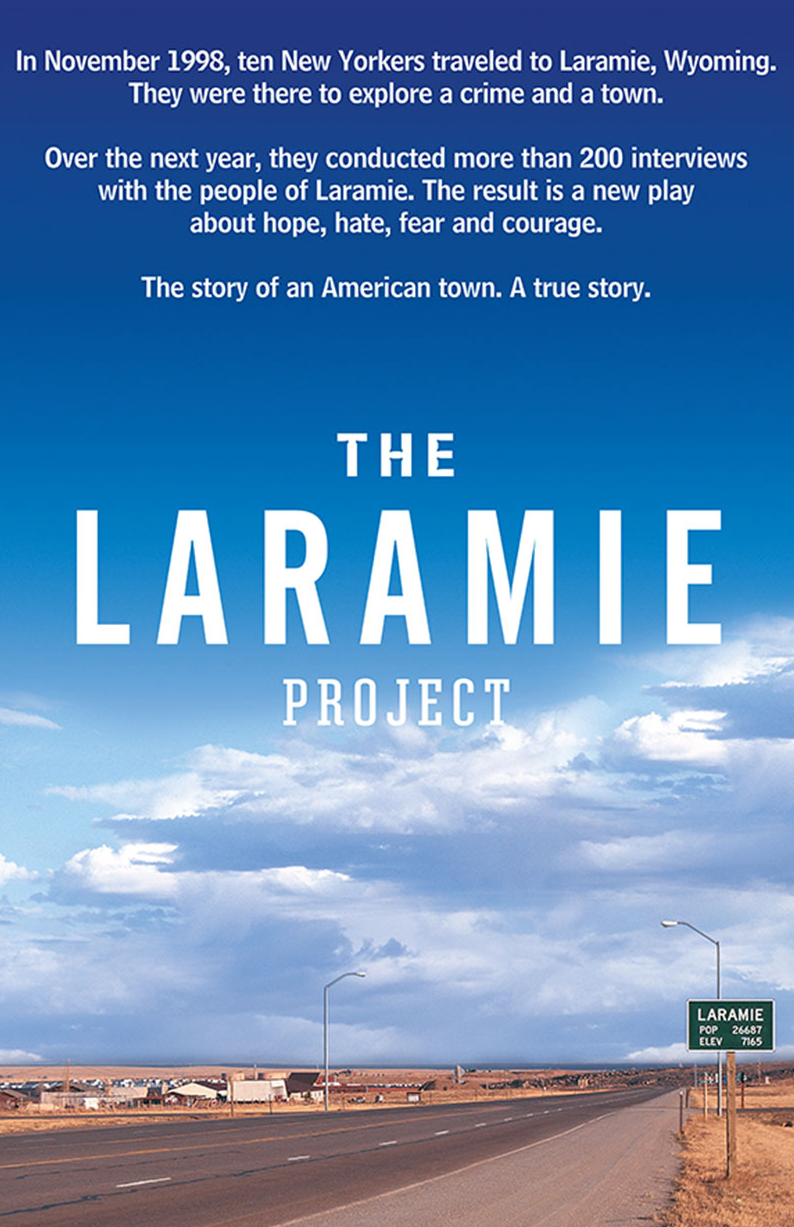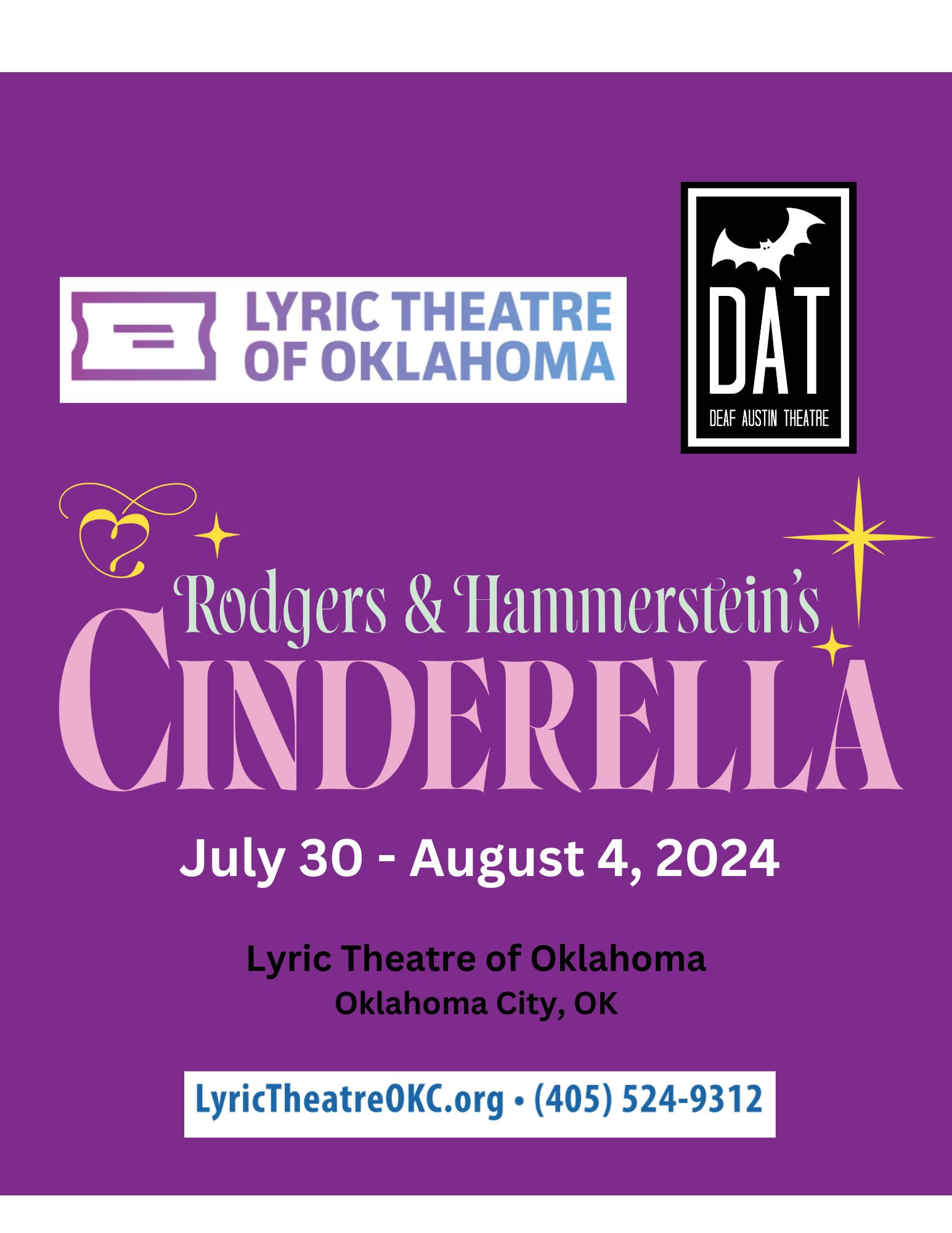 Cinderella
By: Rodgers & Hammerstein
In Collaboration with Zach Theatre
Directed by Dr. Brian A. Cheslik & Michael Baron
This enchanting Tony®-nominated musical fairytale will put a spell on audiences of all ages. In partnership with the Zach Scott Theatre and performed simultaneously in English and American Sign Language, Rogers + Hammerstein's Cinderella showcases some of your favorite tunes including "In My Own Little Corner," "Impossible" and "Ten Minutes Ago," in this funny, modern adaptation from the delightful Broadway revival. Add a dash of romance, a splash of stage magic–and POOF!–you're guaranteed to have a ball!
The Last Five Years
By: Jason Robert Brown
Co-Produced with Ground Floor Theatre
Directed by Dr. Brian A. Cheslik & Lisa Scheps
Choreographer: Mervin Primeaux OBryant
Music Director: Dr. Ellie Jarret Shattles
An emotionally powerful and intimate musical about two New Yorkers in their twenties who fall in and out of love over the course of five years, the show's unconventional structure consists of Cathy, the woman, telling her story backwards while Jamie, the man, tells his story chronologically; the two characters only meet once, at their wedding in the middle of the show.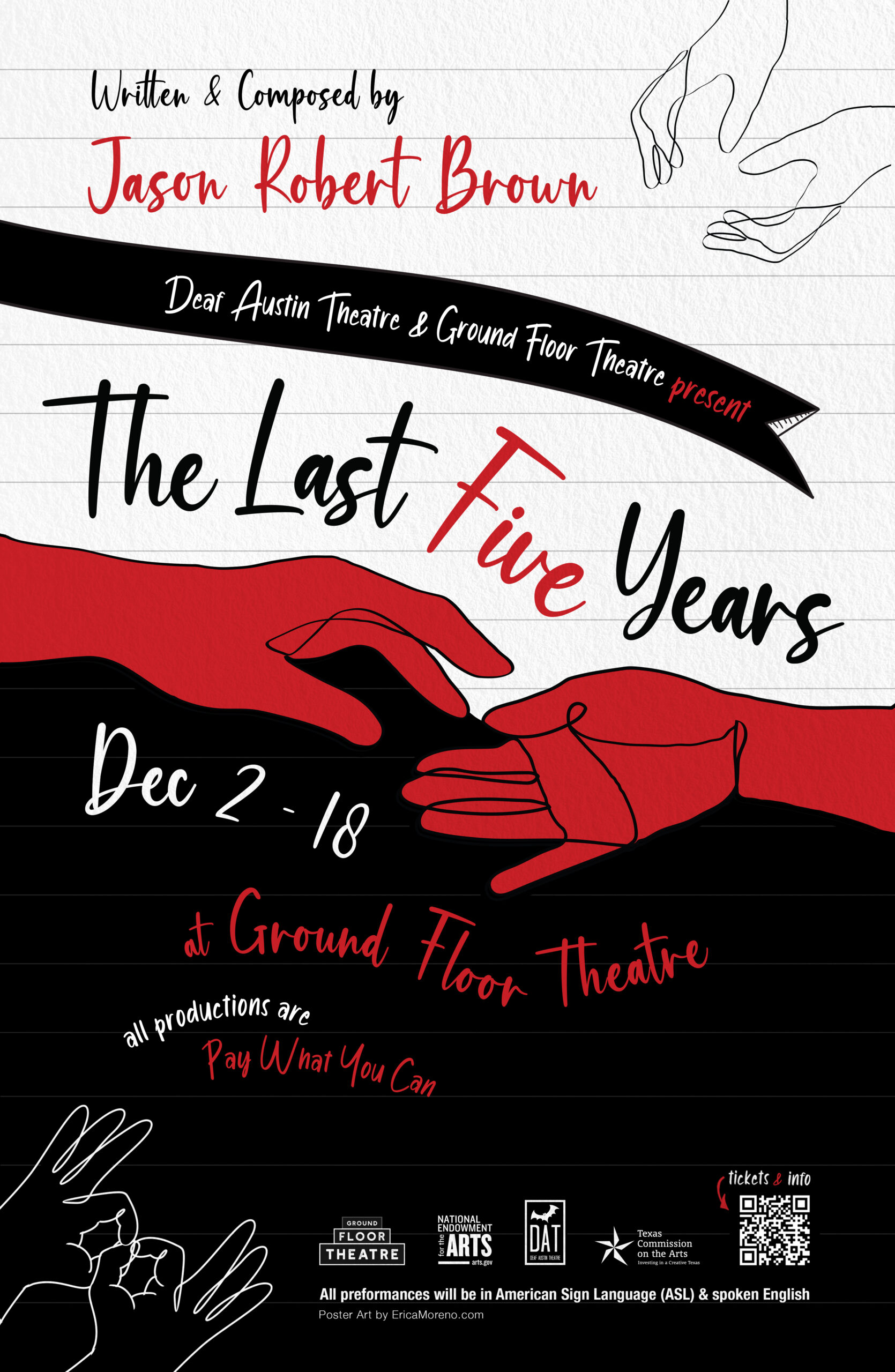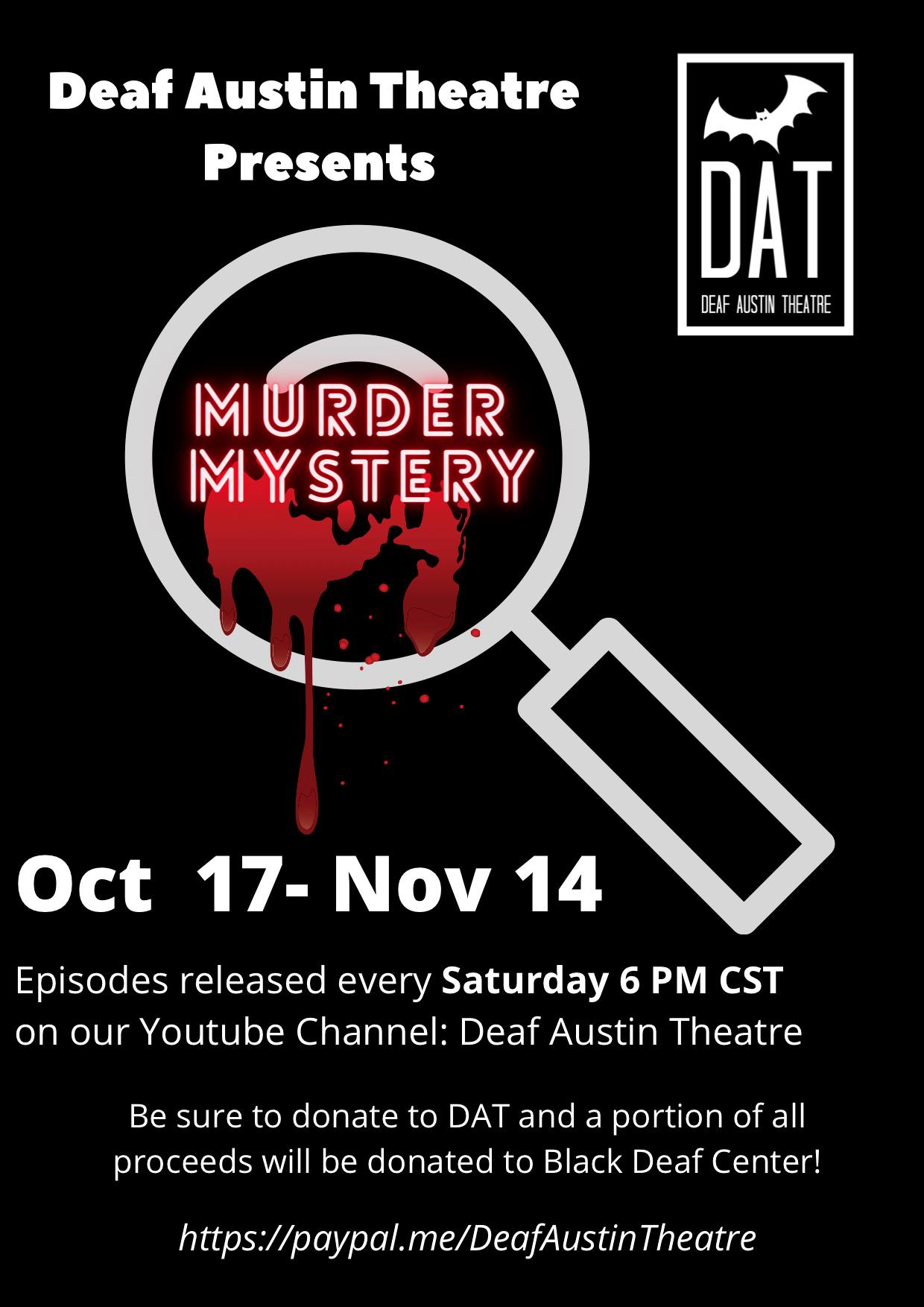 DAT Murder Mystery
Written & Directed by TK Sylvester
Due to the COVID-19 pandemic, Deaf Austin Theatre switched to producing virtual theatre. We released an original five part weekly murder mystery series about a group of college friends who reunite years later, only to become subject to a murderous revenge plot from someone they had wronged in the past.
All videos are currently on our Youtube Channel!
3 Staged Readings
A virtual play reading featuring three original plays written by Deaf playwrights.
Nothing by Nikolya Sereda
Starring: Sandra Mae Frank, Don Miller, Kalie Kubes
Zoomitis by Raymond Luczak
Starring: JoAnn Benfield, Bellamie Bachleda, Brian Cheslik, Charlie Ainsworth
Civil Engagement by James Caverly
Starring: Heba Toulan, Andrew Daly, Ames Biskupiak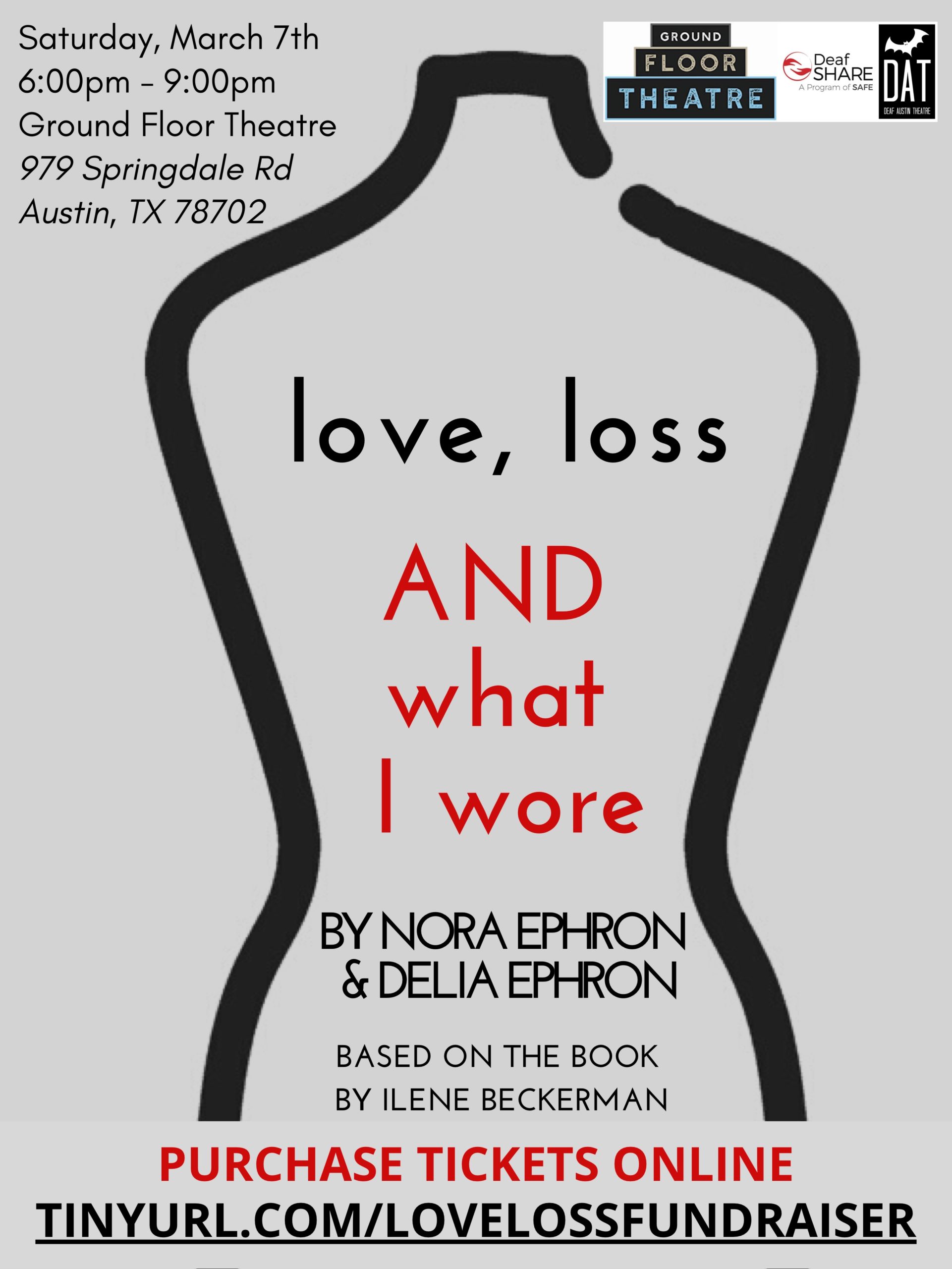 Love, Loss, And What I Wore
Written by Nora & Delia Ephron
Directed by Mallory Malzkuhn & Kalie Kubes
An evening of love, laughter, tears, and strolling down memory lane as we explore the power of clothes. A well-worn old piece of clothing can activate your sense memory with just a touch or the aroma of a familiar scent.
Love, Loss and What I Wore is a collection of monologues and ensemble pieces about women reflecting on memories of favorite clothing items, their mothers, prom dresses, finding the right bra, successful and not so successful marriages, only wearing black, to name a few. This amazing play is based on the bestselling book by Ilene Beckerman.
Deaf Austin Theatre (DAT) and Deaf SHARE are collaborating to produce this one-night fundraiser event to support the operations of Deaf SHARE.
Next to Normal
Music by Tom Kitt
Book and Lyrics by Brian Yorkey
Directed by Brian Cheslik & Lisa Scheps
Musical Directors: Adam Roberts & Dr Ellie Jarret Shattles
Choreography by Kelsey Oliver
Next To Normal explores how one suburban household copes with crisis and mental illness.
Dad's an architect; Mom rushes to pack lunches and pour cereal; their daughter and son are bright, wise-cracking teens, appearing to be a typical American family. And yet their lives are anything but normal because the mother has been battling bipolar disorder for 16 years.
Next to Normal takes audiences into the minds and hearts of each character, presenting their family's story with love, sympathy and heart.
Deaf Austin Theatre has teamed up with Ground Floor Theatre for this production of Tom Kitt & Brian Yorkey's Pulitzer prize winning show and will be fully deaf inclusive. Each character will be played by 2 cast members – one deaf, one hearing.