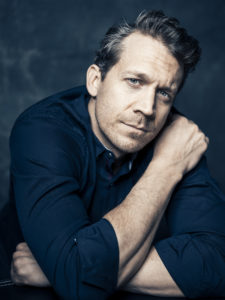 Russell Harvard, founder 
I have been dreaming about Deaf Austin Theatre for many years. When I was working on my first off broadway show, I experienced audism and a lack of inclusion for the first time, causing me to feel constantly uncomfortable and struggling to belong. This is what got me thinking about how nice it would be to establish a theatre company that specializes in inclusion for Deaf artists. A theatre company based in my hometown of Austin, TX, that is rooted in American Sign Language. 
Back in 2012, the idea continued to haunt me, so I reached out to two close friends, Andrés 'Flash' Otalora and Bellamie Bachleda, about the possible birth of a Deaf theatre company and the first three words started to permeate the whole idea of this is really going to be happening. When creating the name, three words kept standing out to me: theatre, Deaf, and Austin. Those three words aligned the way the stars are aligned. Being Deaf is a part of who I am and doesn't always define who I am but I'm grateful for the gifts that it has given me, including our amazing Deaf community and our Deaf culture. I also felt this was a great business strategy that would make us more identifiable. We've all been inspired in many ways when it comes to the word theatre. Lastly, Austin is such a beautiful city and I've lived here since I was 1 year old! I could not NOT use the word Austin. Put those three identifying words together and you get our name: Deaf Austin Theatre.
Now that we had the name, I wanted a symbol to incorporate into our logo and the first thing that came to my mind were bats. Austin and the South Congress bridge brought many tourists every year to witness bats flying at dusk, as well as an annual Bat Festival in August. DAT rhymes with BAT and then a silly rhyme came to mind: DAT IS SO PHAT. Now that we had a name, and a symbol, I asked Andrés 'Flash' Otalora to design our company logo. He did an amazing job.
At this point, it was 2016 and DAT was 4 years in the making. My friend Michelle Schafer helped push the ball rolling on applying for 501(c)3 non-profit status. Bellamie, Michelle and I sat down at Central Market and started working on the application. In 2017, we opened our official bank account. But something was missing… bodies.
We needed more people involved. We needed the Deaf community involved in order to thrive. So we invited several theatre friends to become members. At that first meeting, the three of us met with Charlie Ainsworth, JoAnn Benfield, Brian Cheslik, Kalie Kubes, and Don Miller. At that first meeting, I made it clear that first and foremost: DAT is not mine. I have no ownership or claim over this organization. I emphasized DAT is OURS. DAT is WE. DAT is the Deaf and ASL community. DAT is Deaf Austin Theatre! 
It was at that meeting that our board of directors was formed. From there, we established our Board of Directors, and the rest, as they say, is history.
What is happening now
After the success of our collaborative production of Next to Normal (with Ground Floor Theatre) in December 2019, and our fundraiser production of Love, Loss & What I Wore in March 2020, Deaf Austin Theatre was heading for the stars. Then the world was struck by the COVID-19 pandemic, which put a stop in our future plans. After being dark for a few months, we decided to reinvent ourselves and maximize the experience of theatre at home. We produced virtual content with our 3 Staged Readings production in the Summer of 2020 and a four-part Murder Mystery series in the Fall of 2020. As of now, DAT is continuing to work on virtual content until sometime in the future when it is safe for us all to meet up and play in person. For now, stay safe, wash your hands, and please wear a mask.
What is coming up?
DAT has several projects in the works, including our Deaf short play festival. We will be filming this festival for online streaming. Six plays, 10 minutes, 2-5 characters, set in an elevator. Are you ready for it? That will be released sometime in the Spring of 2021. 
We also have several other projects in the planning phases for release in 2021. So be sure to stay tuned by checking our website and following us on social media. 
Got an idea? Wanna come play with us? Email our artistic director, Brian Cheslik with your ideas. His email is artisticdirector@deafaustintheatre.org.