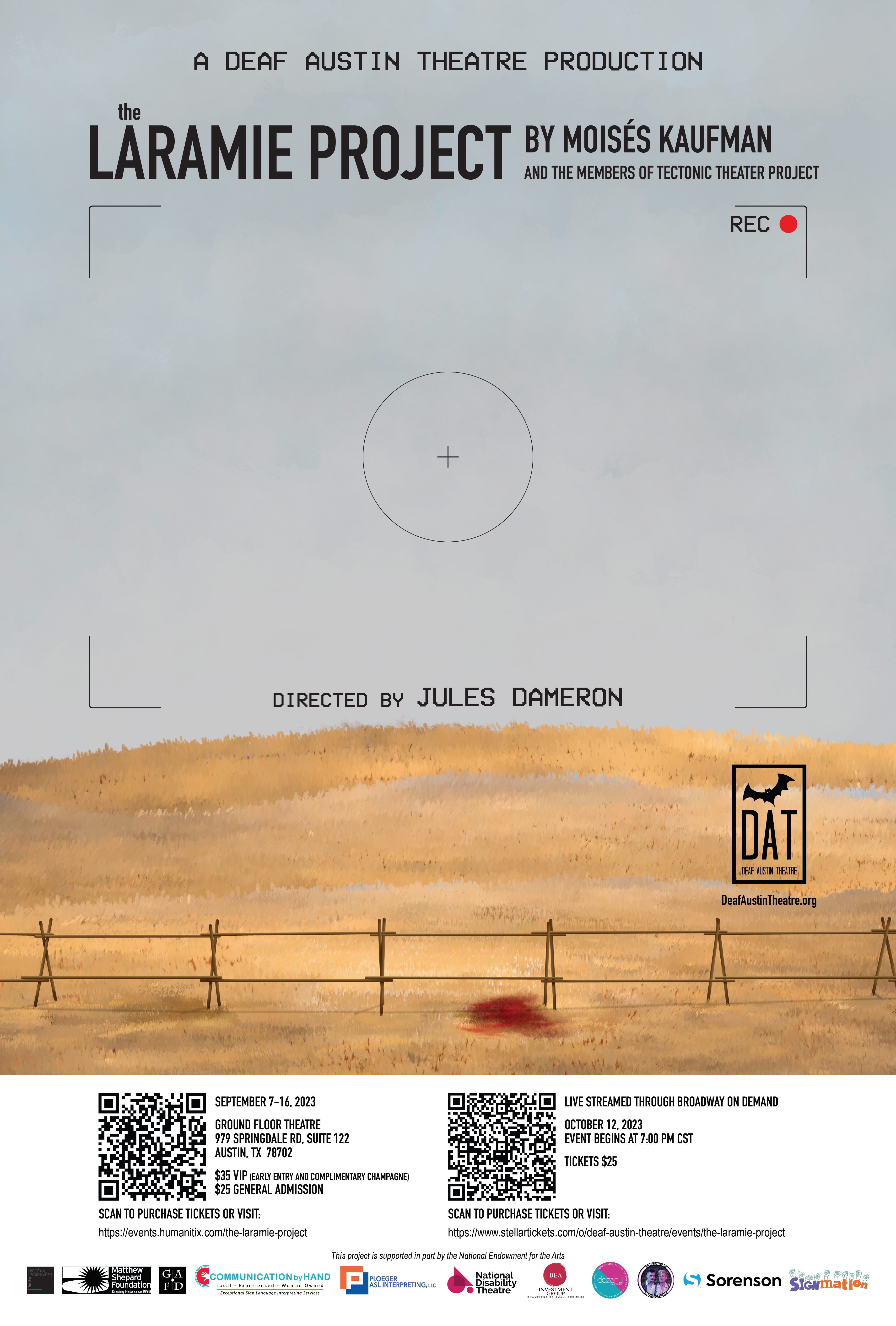 The Laramie Project
by Moises Kaufman
and the members of the Tectonic Theatre Company
 Director: Jules Dameron
SHOW DATES/TIMES/LOCATIONS
Austin Live Show
Production Dates: September 7-16, 2023 
Location:
Ground Floor Theatre, 979 Springdale Rd, Ste 122, Austin, TX 78702   
Online Streaming
Live Stream Date: October 12, 2023 at 7pm CT
Location: Stellar Online Streaming
"THE LARAMIE PROJECT is presented by special arrangement with Dramatists Play Service, Inc., New York."
Help support this production by donating to our fundraiser!!
The Laramie Project Pitch Deck Video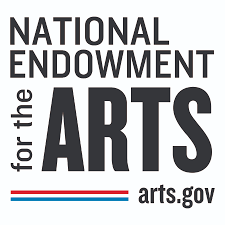 The Laramie Project: Awarded Challenge America Grant by the NEA
Deaf Austin Theater to Receive $10,000 Grant
from the National Endowment for the Arts
Austin, Texas — Deaf Austin Theatre is pleased to announce it has been approved by the
National Endowment for the Arts (NEA) to receive a Challenge America award of $10,000. This
grant will support Deaf Austin Theatre mounting a production of The Laramie Project in
American Sign Language (ASL) and English in Fall 2023. The grant is one of 262 Challenge
America awards totaling $2.62 million that were announced by the NEA as part of its first round
of fiscal year 2023 grants.
"The National Endowment for the Arts is proud to support arts projects in communities
nationwide," said NEA Chair Maria Rosario Jackson, PhD. "Projects such as this one with Deaf
Austin Theatre (DAT) strengthen arts and cultural ecosystems, provide equitable opportunities
for arts participation and practice, and contribute to the health of our communities and our
economy."
Artistic Director Dr. Brian Cheslik will lead the project in collaboration with Jules Dameron of
Hypernovas Productions as director. Deaf Austin Theater will produce The Laramie Project, the
first professionally live staged adaptation, in American Sign Language (ASL) with both Deaf and
hearing actors and a Deaf production team to be mounted at Ground Floor Theatre in Austin,
Texas.
Our stage production will be live-streamed through Broadway On Demand on October 12th,
2023, in honor of the death of Matthew Shepard. We are grateful for the endorsement of our
ASL adaptation by its Playwright Moises Kaufman and The Tectonic Theater Company, along
with The Matthew Shepard Foundation.
Our goal is to establish dialogue and recognition of the LGBTQ & BIPOC individuals within the
Deaf Community, both locally in Austin and nationally. A documentary will be shot of The
Laramie Project: ASL and fundraising for the project is ongoing. Deaf Austin Theatre envisions a
NYC reprise, this time on Broadway with a Deaf and hearing cast. It would be a first for The
Laramie Project and for those who have been historically silenced.
Jo-Ann Dean of Broadway SIGNs! and SIGNmation is a grant writer for the project and listed as a
Producer. Sponsorship opportunities and donations are available for The Laramie Project @
https://SIGNmation.com
For more information on how you can support the project and to get involved contact:
artisticdirector@deafaustintheatre.org. Visit https://deafaustintheatre.org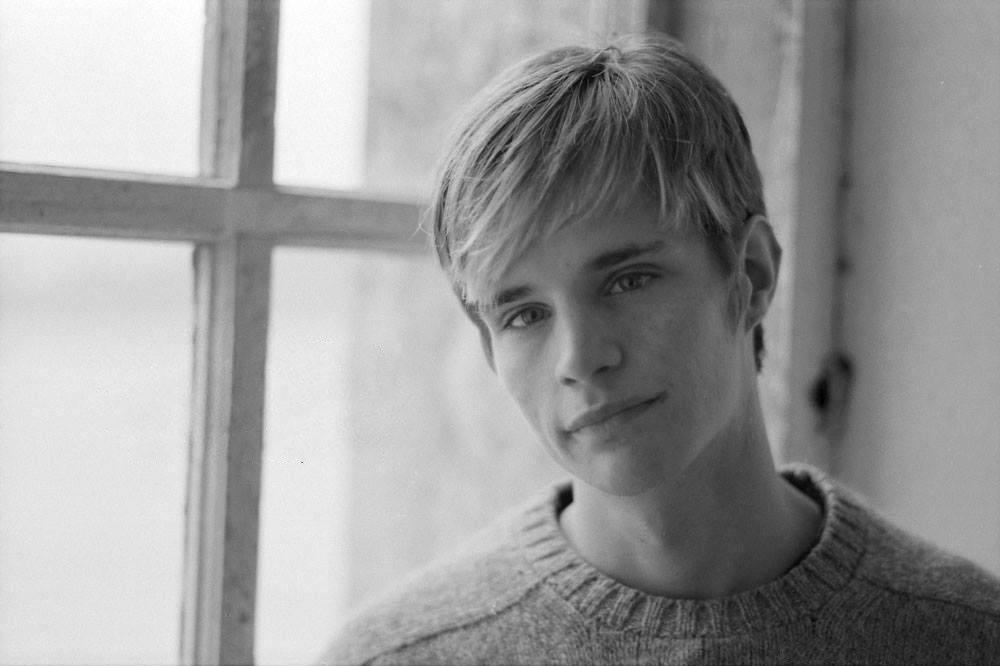 Matthew Shepard
Matthew was 21 years old when he was murdered in October of 1998. He was a student at the University of Wyoming in the small town of Laramie.  On the night of October 6, 1998, Matthew went to the Fireside Bar in Laramie where he accepted a ride home from Russell Henderson and Aaron McKinney. Instead of driving him home, they drove him to a remote area of countryside, beat and tortured Matthew. They tied him to a fence and left him there to die. He was found sometime the next day by a biker and taken to a hospital in Fort Collins, CO where he died six days later on October 12, 1998. 

Message from DAT Artistic
Director, Brian Cheslik and DAT
Production Manager, Sandra
Mae Frank
The Matthew Shepard Story
(made for TV movie)
In this dramatization of an actual event, young Matthew Shepard (Shane Meier) is mercilessly slain by a pair of men who targeted their victim because of his homosexuality. Capital punishment looming, the killers' fate lies in the hands of Matthew's parents, Judy (Stockard Channing) and Dennis (Sam W

aterston). As the grieving couple attempts to make the choice that will best serve Matthew's memory, they recount his rocky adolescence, lifelong struggle for acceptance and personal views on life.



The Opposite of Hate is…
Laramie: A Legacy
"The Opposite of Hate Is…" premiered at "Laramie: A Legacy" on September 24, 2018 in NYC. "Laramie: A Legacy" was a history-making evening, with the original company of "The Laramie Project" joining stars of stage and screen to honor the progress made over the last 20 years to #EraseHate​.
Twenty years ago 21-year-old college student Matthew Shepard was murdered for being gay. Since then, the Matthew Shepard Foundation and Tectonic Theater Project have been fighting to #EraseHate​ around the world through theater and activism.
This production is supported by…